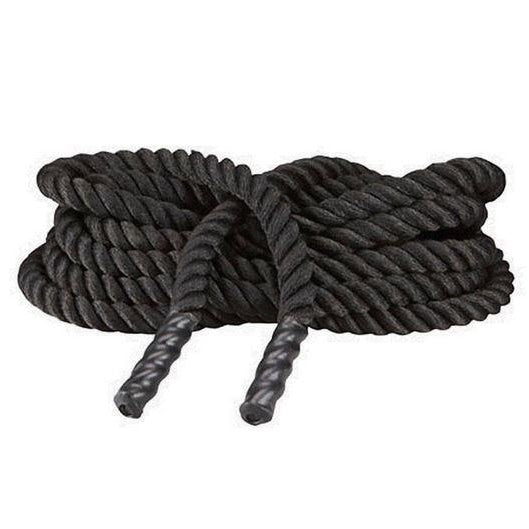 The Battling Ropes combine high intensity and low impact movements with a full range of motion workout. Battling Ropes help build stamina, gain lean muscle mass, burn fat and strengthen core muscles. Rope training was recently voted by Men's Health magazine as the best cardio workout.
Durable 20/80 (Poly/Danline) blend that prevents fraying while still being flexible.
Available in black with 1.5in diameter.
30 ft length.

40 ft length.
The Smart Battling Ropes Caddy features self-guided exercises printed directly on the caddy for easy reference. It is wall-mounted to easily keep the lengthy ropes organized and off the floor as well as provide the anchor point for the rope during exercises. The unique, saddle-shaped anchor provides a smooth path for your rope to minimize wear and tear on the rope during exercises.
PICK UP or DELIVERY
Free in-store pick up.
Free shipping on most products.
Local inside delivery, assembly and equipment removal options available.
INSTALLATION
Our Fitness Exchange professional installation team will ensure your project is completed on-time, assembled and tested for safety, and trouble free. Contact us for an installation quote.
EXTENDED parts and labor warranty available.