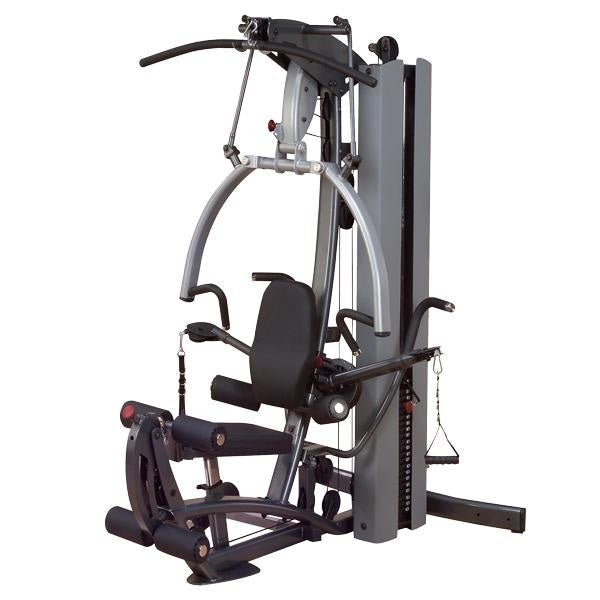 Body-Solid is recognized worldwide as a leader in home gyms and commercial strength training equipment. Over 5 million customers are enjoying the results of strength training in their everyday lives. Their equipment is designed to fit a wide variety of lifestyles, space requirements and user sizes. In designing the Fusion line of equipment, we raised the bar for high-end single stack gyms for the home by utilizing rugged, oversized oval steel tubing. Body-Solid acknowledged a growing popularity of combined traditional and functional training routines. They emphasized a modular design that lets individual users define and build the best home gym for their specific fitness and strength-training goals.
The Fusion 600 has a single-stack, multi-function approach to home gym design that offers you an amazingly versatile workout. Isolate individual muscles or introduce functional training into your routine to establish and sustain improved coordination, balance and stability.
Whether you configure your Fusion 600 single stack gym to include a multi-hip station, vertical knee raise/dip station, (or any combination of stations and accessories), form and function converge to provide you with balanced, biomechanically efficient upper and lower body development.
Features:
Bi-Angular Press Arms

- Body-Solid's revolutionary Bi-Angular press arm that generates 25% more muscle interaction for better results.

Standard Press Arms - Standard press arm with ergonomically designed multi-position handles for seated rows.
Leg Curl - A leg curl station that lets the user develop both hamstrings simultaneously from a comfortable, seated position.
Leg Extension - Leg extension with pivoting rollers that provides a full range of motion and allows you to feel your quads being worked through the entire range of movement.
Articulating Functional Training Arms - Synchronized articulating functional training arms with range extending from upper ab exercises to side-accessed workouts.
Adjustable Seat & Back Pad - Gas assist telescoping seat and telescoping back rest with multiple position cushion that ensures comfort and adjustability for any size user.
Customizable - Two pre-cabled accessory attachment points that enable you to configure your gym to be as individually unique as your personal goals and routines demand.
Lifetime In-Home Warranty - Superior engineering and construction backed by the Body-Solid guarantee to last a lifetime.

May add attachments to both sides of gym.

Left side facing gym - 1/2:1 ratio

Right side facing gym - 2:1 ratio

Workout Placard - 20 exercises examples included.
Functional Training:
Functional Pulleys - Allow users to perform a variety of exercises that recruit stabilizer muscles to exercise movements such as pec flys and converging presses.

Adjustable Arms

- Allow you to change the angle of reistance 160 degrees, in 20 degree increments.
Options:
Leg Press

- 2:1 Ratio. Rubber coated foot plate. Double beemed pivot self-aligns to your
ankle angles. Industrial pillow block bearing pivot. Adjustable back pad.

Multi-Hip

- 4 way leg workout from a hip pivot. Thigh adduction, Thigh abduction, Leg kick
& Leg lift. Cam adjustment for full range of motion. Easy handles for stabilization.

Vertical Knee Raise

- Mounts to the back of the gym for minimal. Exercises inclue, knee raises, leg lifts, dips with comfortable over-sized grips, obliques.

Pull Up Bar Attachment

- Variable hand position chin ups. Wide grip lat pull ups.

Weight Stack

- Upgrade to a 310 lb. weight stack.
PICK UP or DELIVERY
Free in-store pick up.
Free shipping on most products.
Local inside delivery, assembly and equipment removal options available.
INSTALLATION
Our Fitness Exchange professional installation team will ensure your project is completed on-time, assembled and tested for safety, and trouble free. Contact us for an installation quote.
EXTENDED parts and labor warranty available.